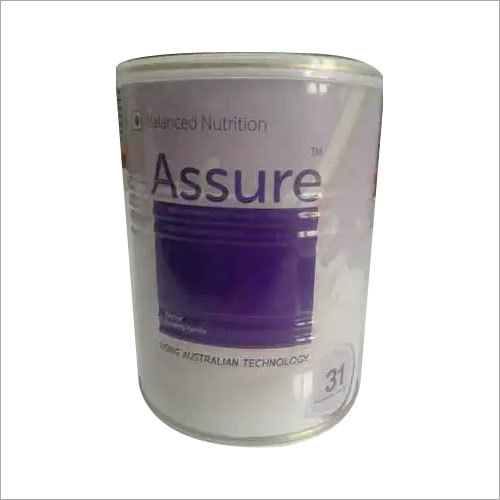 Product Description
Assure Balanced Nutrition is a dietary supplement which is completely suitable to be consumed by adults of all age groups for preventing or treating vitamin deficiency. It has been formulated in powder form using DHA, vitamins, minerals, alpha lipoic acid, and soy protein. This powder is generally consumed by mixing in warm or cold milk in quantities as prescribed by doctor. It is also appreciated for having delicious taste easy digestibility. Assure Balanced Nutrition regular consumption of this powder plays an important role in strengthening bones & teeth by retention & increased absorption of calcium.
Specification
Protein – 25 gm
Sugar – 15 gm
DHA – 180 mg
Alpha lipoic acid – 50 mg
Vitamin A – 750 IU
Vitamin D – 150 IU
Vitamin E – 65 IU
Vitamin C – 60 mg
Niacinamide – 8 mg
Pantothenic acid – 5 mg
Vitamin B6 – 1 mg
Vitamin B2- 0.8 mg
Vitamin B1 – 0.6 mg
Folic acid – 100 mcg
Biotin – 100 mcg
Vitamin K – 30 mcg
Vitamin B12- 2.5 mcg
Potassium – 480 mg
Calcium – 410 mg
Sodium – 336 mg
Chloride – 262 mg
Phosphorous – 250 mg
Magnesium – 140 mg
Iron – 5 mg
Zinc – 3.5 mg
Mangenese – 0.9 mg
Copper –0.4 mg
Chromium – 200 mcg
Iodine – 40 mcg
Selenium – 20 mcg
Molybdenum – 33 mcg
L-carnitine – 50 mg
L-taurine – 40 mg
Other Details

Country: Bangladesh
Category: Powder/ Sachet
Pack Size: 30/ 200/ 400gm
Use: FOR CHEMOTHERAPY PATIENT
Ingredients: Soy protein isolate, calcium casinate, Encapsulated vegetable oil (soya oil powder, maltodextrin, dextrose, sucrose, DHA, Alpha lipoic acid, vitamin premix, Mineral mixture, L-carnitine, L-Taurine, added class II preservatives, contains permitted colour and added flavours.