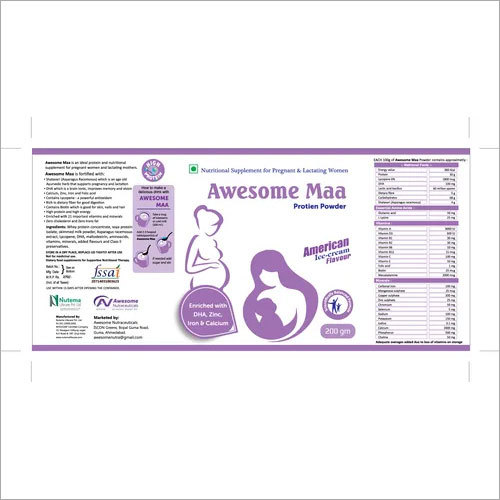 Product Description
Awesome Maa is fortified with:
Shatavari (Asparagus Racemosus) which is an age old Ayurvedic herb that supports pregnancy and lactation.
DHA which is a brain tonic, improves memory and vision.
Calcium, zinc, iron and folic acid.
Contains Lycopene - a powerful antioxidant
Rich in dietary fiber for good digestion
Contains Biotin which is good for skin, nails and hair
High protein and high energy
Enriched with 21 important vitamins and minerals
Zero cholesterol and Zero trans fat
Ingredients :
Whey protein concentrate, soya protein isolate, skimmed milk powder, asparagus racemosus extract, lycopene, DHA, maltodextrin, amino acids, vitamins, minerals, added flavours and class II preservatives.
Each 100g of Awesome Maa Powder contains approximately:
Nutrional Facts
Energy Value : 360 kcal
Protein : 30 g
Lycopene 6% : 1800 mcg
DHA : 100 mg
Lactic acid bacillus : 60 million spores
Dietary Fibre : 5 g
Carbohydrates : 68 g
Shatavari (Asparagus Racemosus) : 4 g
Essential Amino Acids
Glutamic Acid : 10 mg
L-Lysine : 25 mg
Vitamins
Vitamin A : 3000 IU
Vitamin D3 : 300 IU
Vitamin B1 : 30 mg
Vitamin B2 : 30 mg
Vitamin B6 : 10 mg
Vitamin B12 : 15 mcg
Vitamin C : 100 mg
Vitamin E 10 mg
Folic Acid : 1 mg
Biotin : 25 mcg
Mecobalamine : 2000 mcg
Minerals
Carbonyl Iron : 100 mg
Manganese Sulphate : 25 mcg
Copper Sulphate : 300 mg
Zinc Sulphate : 25 mg
Chromium : 50 mg
Selenium : 5 mg
Sodium : 100 mg
Potassium : 150 mg
Iodine : 0.1 mg
Calcium : 2000 mg
Phosphorus : 500 mg
Choline : 50 mg